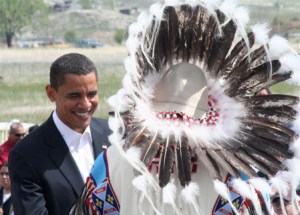 Barack Obama was made a ceremonial member of the Crow nation, and given the name Awe Kooda Bilaxpak Kuuxshish.
He also got two superdelegates from Alaska today.
Also, he doesn't know everything. 
Marc Ambinder wonders how Obama sees his wife's role.
Clinton and Obama will both be in Florida at the same time.
Spin Cycle considers the phrase "full-blooded American."
Adam Clayton Powell, IV is going forward with his public advocate bid.
Here's video of John Boehner discussing Vito Fossella on Meet the Press.
The state Department of Environmental Conservation gave out a grant for reducing sewer overflow at two sites in the city.
One upstate blogger takes a cynical view of the company that wants to build a new power line.
Here's a video featuring courtroom illustrations from the Sean Bell trial.
Democratic State Senator John Sampson is having a fund-raiser on Wednesday, with David Paterson and Malcolm Smith on the invitation.
Sewell Chan reports on deliriously happy Park Slope parkers.