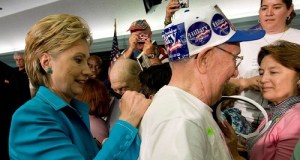 During the vote on the new G.I. Bill (which passed the Senate today) Barack Obama critisized John McCain's absence, and McCain shot back a harsh statement.
Howard Wolfson said that even if Florida and Michigan delegates aren't seated, he would consider an Obama victory legitimate.
Karen Tumulty reports on what Hillary Clinton might want for dropping out of the race.
Glenn Thrush delivers an insightful rendition of the why-she-failed story.
A Florida state senator has sued the D.N.C. for violating the Voting Rights Act.
The Palm Beach County Commissioner, a major Clinton supporter, went to see Obama speak today.
Clinton gets a superdelegate from Guam.
"McCain's age is no laughing matter," writes the Economist.
David Paterson is skipping his own party.
Community boards got lots of support from elected officials at City Hall today.
Michael Reich of the Queens County Democratic Organization said State Senator John Sabini embarrassed the organization and is "surely going to lose."
One hundred religious congregations from upstate went to Albany to ask for more attention from the government for the region.
Randy Kuhl's "Fix Washington" program got an inauspicious start when no press showed up to the press conference.
Andrea Stewart-Cousins went ahead with the press conference about the violence near her office.
A bunch of eighth graders in the Bronx refused to take a standardized test, and their teacher might be fired.
Gersh Kuntzman relieves himself in Fort Greene.
Subway ridership in L.A. is up 14 percent this year, most likely because of gas prices.
A noted performance artist is using the Eliot Spitzer scandal in her latest work.