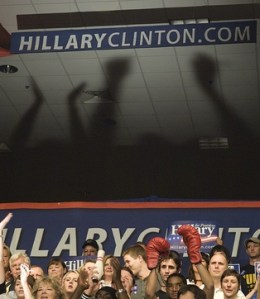 Ed Rendell and Bob Casey write a joint fund-raising letter for the D.N.C.
The argument for a Hillary Clinton-Barack Obama ticket "overstates the benefits" and "understates the costs," writes the Economist. 
The Tennessee Republican Party did what everyone said someone from the G.O.P. would do with comments Michelle Obama made earlier this year.
PolitickerNJ notes how infrequently Senators lose primaries.
Obama gets three influential superdelegates. 
David Paterson signed legislation making it a crime to display a noose.
Eliot Brown reports on Paterson's search for a statewide development czar. 
Spin Cycle remembers a moment from a past primary.
Dean Skelos thinks that legislators are being unfairly blamed for the delay on legislative pay raises.
Dominican politicians are campaigning in New York. 
It's not every day you hear a senior Senator say "kick his ass."