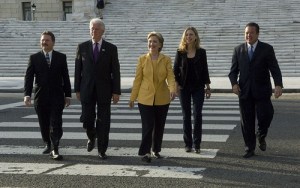 Politico gets a copy of Scott McClellan's new book. It is not kind to the Bush administration.
Fact-checking Hillary Clinton, the A.P. says, "Sixteen years ago, six contests in June did give Bill Clinton the necessary delegates for the nomination, but he had essentially won the nomination in March 1992."
Barack Obama's great uncle helped liberate Buchenwald, not Auschwitz.
Barry Goldwater's granddaughter dishes on John McCain.
Joe Bruno is sort of evasive when asked if he will run for re-election.
The State Senate passes a bill banning text messaging while driving, and Liz worries that it might cramp her style.
McCain promised to stem nuclear proliferation.
Edwards Lewis, founder of Essence Magazine, switches support from Clinton to Obama.
A Wyoming superdelegate announces for Obama.
Anthony Weiner discusses his relationship with Clinton aide Huma Abedin. 
A contractor at the Indian Point nuclear plant was caught with a 45-caliber semi-automatic handgun.
Think Progress notices that McCain tweaked the section of his web site about Iraq.
The D.N.C. wishes you "Happy Florida-Michigan week!"
Here's the speech Charlie Rangel gave at the Bard College commencement last weekend.
Second Avenue Sagas takes issue with M.T.A. board members who get perks for life.
The City Council went after Joel Klein during a hearing today.
In the comments section, Jones Court looks at the number of decisions Milton Tingling had overturned.
Andrew Stengel isn't happy with Walter Ayres' excuse.
Curtis Sliwa talks about running for office.
There are lots of newly registered Democrats in New Jersey.
UPDATE: Bob Kerrey tells NY1 that Obama will have hard time getting the necessary number of delegates unless he reaches some sort of agreement with Clinton.