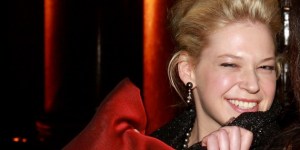 We have to admit: Emily Brill's ever-evolving blog tickles us. And not in that painful way when your older brother terrorizes you—well, maybe a little—but in the way that makes us giggle on a dark and stormy day like today.
Today, Ms. Brill—daughter of Manhattan journalist and entrepreneur Steven Brill—informs us that she spent a rather exciting evening with Erica Birmingham, who has christened herself the "Duchess of Harvard" while attending the college. According to a 2006 Harvard Crimson profile of her, the Bud Light-guzzling Ms. Birmingham checks into hotels under the name Rosalind Connage, the debutante from F. Scott Fitzgerald's This Side of Paradise, sips Kir Royales at breakfast (shocking!), and was the closest thing to Paris Hilton the college ever had. (Their words.)
The two ladies attended parties for Operation Smile—Mariah Carey performed!—and Pink Agenda. (Stay tuned, pictures are coming!) Ms. Brill informs us that the Duchess is "fabulous" among other things:
"What draws me to Erica Birmingham? Well, these are initial impressions, but I think she's fabulous: full of life, loves New York and has a great heart. But you know there's more…you're not stupid. you guys keep me on my toes. all you have to do is read about Erica to see how and why the two of us might have a thing or two to talk about."
The Glorious Adventures of Emily and the Duchess: to be continued.