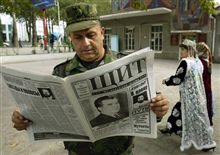 Finally, a little good news about the newspaper industry. Amid reports of layoffs, buyouts, and declining readership comes this report by Heather Timmons from today's New York Times that:
New newspapers — some backed by governments, others by business moguls and international conglomerates — are springing up from Rwanda to Tajikistan, attracting readers and advertising money.
According to Ms. Timmons. "Global newspaper advertising spending will increase to $130 billion in 2010 from $125 billion in 2007, according to ZenithOptimedia, partly as a result of growth in India and other emerging markets. That trend is reversed in North America, where newspaper advertising revenue in the United States fell 7.9 percent in 2007, according to the Newspaper Association of America."