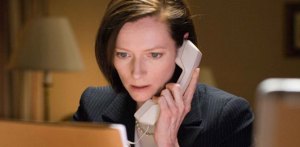 Whatever happened to Ally McBeal? If recent movies and television shows are any guide, the life of a female lawyer has gotten a lot less pleasant since the carefree, charmingly neurotic days of dancing babies and bathroom kisses. But today's portrayals may be more accurate, and certainly more critically acclaimed.
Last January, Glenn Close won a Golden Globe for her compelling performance as Patty Hewes, a fearsome and wildly successful plaintiff's lawyer, on the addictive TV show Damages. The following month, Tilda Swinton snagged an Oscar for stepping into the pumps of Karen Crowder, a hard-charging in-house litigator, in Michael Clayton.
In March, Julianna Margulies (of ER) returned to television as aggressive defense lawyer Elizabeth Canterbury, the title character of Canterbury's Law. Even Katey Sagal, who embodied the famously vulgar Peggy Bundy on Married With Children, reincarnated herself this year as Marci Klein, the sleek, powerful, and ruthless founding partner of the law firm on Eli Stone.
All of these actresses play litigators, even though real-life litigation is a male-dominated field (the analog in medicine might be surgery, or even orthopedic surgery). And they're portrayals of not just any old female litigator, but a specific type: the Litigatrix.
Who is the Litigatrix? On the plus side, she's supremely confident and competent. The Litigatrix is very good at her job, and she knows it. Above all, she's strong-willed and tough—a woman making her way in a man's world. Of course, these are buzzwords that trigger other, more familiar characterizations.
The Fox Web site describes Elizabeth Canterbury, the "rebellious female defense attorney" played by Julianna Margulies, as "a force of nature." Similarly, the FX Web site touts Glenn Close's Patty Hewes, "the nation's most revered and most reviled litigator," as "hard-hitting" and "Machiavellian."
Let's not mince words: the Litigatrix is a bitch. She didn't excel in litigation's testosterone-soaked precincts by playing nice. Like that other professional "-ix," the dominatrix, the Litigatrix knows how to crack a whip. Making men feel pain is part of her job description.
The Litigatrix archetype is not new. She has been with us at least since the late 1980s, when Diana Muldaur played the despised Rosalind Shays on L.A. Law (who met an untimely end by plummeting down an empty elevator shaft, to the perverse pleasure of many viewers). But the Litigatrix does appear to be experiencing something of a renaissance or cultural moment right now.
WHAT DO TODAY'S actual female litigators make of this portrayal?
Anne Vladeck is one of New York's top labor and employment lawyers; last year, she successfully represented Anucha Browne Sanders in her sexual harassment lawsuit against Isiah Thomas and Madison Square Garden.
Does Ms. Vladeck buy Glenn Close's portrayal of a prominent female plaintiff's lawyer? "I don't know anybody like her," Ms. Vladeck said. "I'd probably run like hell if I did."
But most women I spoke with said these characters did get a lot of things right.
Tilda Swinton's star turn as Karen Crowder, in-house counsel to a Big Evil Corporation defending itself against charges that it essentially poisoned people by selling a toxic weed killer (which, it turns out, it did), got high marks for accuracy.
"I thought it the most realistic representation yet," said a female civil litigator at a prominent New York law firm. "First you throw up, then you order someone to kill someone. We're asked to do terrible things, and we get them done. Her character is kind of evil, but being a litigator is kind of evil.
"Tilda Swinton was awesome," she continued. "They didn't give her a backstory. She was married to her job, and I thought that was pretty realistic. She wasn't slayed by [George] Clooney's good looks, she wasn't redeemable, she was just a corporate lawyer."
Others viewed Ms. Swinton's character as more to be pitied than admired. Karen Crowder is "a depiction of the woman who has lost her mind in pursuing a successful legal career," said a female white-collar-criminal defense lawyer at a large New York-area firm.