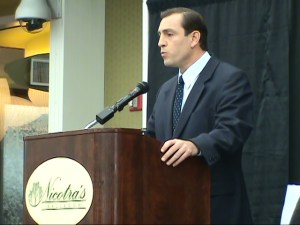 In his first appearance since being arrested in Virginia for drunk driving, Republican Congressman Vito Fossella said he's not resigning and he hopes the residents of his Staten Island-Brooklyn district forgive him for what he said was a one-time mistake.
"It was a big mistake and I made it and I'm here to apologize to the people I represent," he said, speaking at the Hilton hotel on Staten Island. "I was brought up man enough to know it's time to admit mistakes and apologize."
Fossella spoke for about six minutes, and walked away when I tried asking if he would enter rehab. An aide said later there was no need for it.
"I know better than to get behind the wheel of a car even after one drink," Fosssella said. A television reporter later asked if the statement was misleading, since it's been reported that a Breathalyzer administered when he was pulled over showed he had twice the legal limit of alcohol in his system.
"The lesson I've learned and reaffirmed and underscore is that the mistake will never happen again. I will not get behind the wheel, even after one drink," Fossella said. "As for the specifics of the case itself, I cannot comment on a pending legal matter."
He did say that there was no one else in the car with him when he was arrested. Aides said the lawyer advising Fossella now is Barry J. Pollack, of the Washington, D.C.-based firm Kelley, Drye & Warren, L.L.P.
On hand for the event were political allies: State Senator Andrew Lanza and City Council members Jimmy Oddo and Vinny Ignizio, all three of whom answered questions from reporters after Fossella left the hotel.
Two Democrats, lawyer Steve Harrison and City Councilman Domenic Recchia, are trying to unseat Fossella this fall.