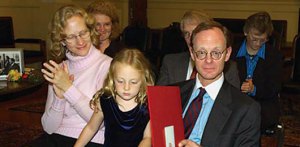 Even in the absurd little world of Upper East Side real estate, there are few fights as magnificent as the feud between billionaire financier J. Christopher Flowers and the developer Dominion Management over the townhouse at 12 East 73rd Street. And unless there's a drastic Act V turn, Mr. Flowers, who also happens to own New York's most expensive mansion just two blocks away, won that feud this month.
Four justices of the New York Supreme Court's Appellate Division unanimously decided two weeks ago that Dominion owes the billionaire money for unfinished work at the townhouse, which he bought from them in November 2006 for $17 million, and then flipped a few months later for $23 million.
A lower court will likely decide this year just how much Mr. Flowers will get back from Dominion, a company run by the Rinzler real estate family, but a source close to the billionaire told The Observer he wants "in excess of two million dollars."
Things were more innocent back in January 2004, when Mr. Flowers first signed a contract to buy the place. The closing date was set for that July, when the unrenovated house was supposed to be finished by Dominion. By March, there were problems with a skylight; then came squabbles over limestone in the rear yard. By August, the "parties' conduct toward one another apparently lost its cordiality," according to the court.
Dominion complained that Mr. Flowers "belligerently demanded the completion of the construction … and threatened to otherwise tie up the property in litigation for years to come." Meanwhile, his wife apparently "ceased cooperating" with Dominion.
Amid "posturing and gamesmanship" from both sides, according to the decision, Dominion made a bold move, signing a contract to sell the townhouse to someone else for $18 million. The next month, they told Mr. Flowers that his contract for the house was terminated on account of his failure to pay for bonus changes he'd ordered.
But because Dominion never made the appropriate written demands for that extra payment, the termination was invalid: A judge forced the two parties to close, and by November 2006, the townhouse was finally, officially, Mr. Flowers'.
That didn't last long. In late 2006, he spent $53 million, a still-standing New York townhouse record, for the Harkness Mansion nearby, and a few months later, the day after April Fool's, he sold off the East 73rd house he'd finally bought from Dominion, making a tidy $6 million profit. "This isn't about the money," the source close to Mr. Flowers said. "It was about the fact that Rinzler did something that was detestable to them, and they were not going to let them get away with it."
So the fight wasn't over. Mr. Flowers actually appealed that judge's decision to close—because the judge didn't award him money from Dominion to make up for the fact that they hadn't delivered a fully completed townhouse as contractually obligated. "Did we yell at each other?" the source said. "Yes, we did, as a matter of fact. There's been a lot of yelling"—over questions like why a billionaire should want an abatement if he was willing to close before the house was completed, and especially if he flipped for such a big profit. "And the answer was: This is America! He pays taxes, and the law should be applied equally to everybody."
The appellate justices all agreed. "After all," said another source involved in the trial, "a contract's a contract."
News of the decision was first reported in The New York Law Journal.