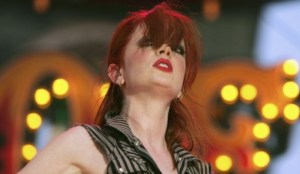 Remember Garbage lead singer Shirley Manson? You know, semi-goth girl with dyed burgandy hair and combat boots? She's only happy when it rains, etc? She's back, and in a suit! She'll appear in a regular role next season on Fox's Terminator: The Sarah Connor Chronicles as the CEO of "a cutting-edge high-tech company," according to the Hollywood Reporter.
The sci-fi series, an offshoot from the "Terminator" feature franchise, is returning for a second season in the fall after launching in midseason as the highest-rated new scripted series of the 2007-08 season.
It stars Lena Headey as Sarah Connor, Thomas Dekker as her son John Connor and Summer Glau as terminator Cameron Phillips.
Formed in Madison, Wis., Garbage broke on the national scene in 1995 with its self-titled debut album, which spawned the modern rock hit "Only Happy When It Rains" and has gone double platinum. The quartet, which also includes Nirvana producer Butch Vig on drums, has released three other albums, the most recent in 2005.