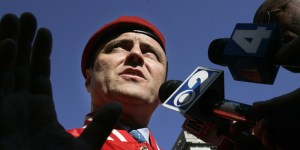 Republican City Council candidate Robert Hornak of Astoria is having a birthday party fund-raiser on May 21.
On the host committee, an interesting mix:
Radio host Curtis Sliwa; former Republican and Democratic 2005 public advocate candidate Jay Golub; consultant Kellyanne Conway; and Herb London, the Republican candidate for state comptroller in 1994.
Hornack is vying for the seat currently held by Peter Vallone, Jr., who will be term-limited out. So far, he's the only Republican competing. Costa Constantinides, a former staffer for Darlene Mealy, has declared a bid for the Democratic nomination, and Assemblyman Michael Gianaris is widely speculated to be considering it.
Here's the invite:
You Are Invited….
To Join Us as We Celebrate the Birthday of
Robert Hornak
and support his campaign for NY City Council
Wednesday, May 21, 2008
Please join us as we help Robert celebrate two special events, his birthday and his campaign for City Council. We will have an open bar, some delicious finger foods and games and entertainment all night.
Stout NYC
133 West 33rd Street
7:00 pm to 10:00pm
Contribution Levels
$40 – Junior Watchdog
(for young republicans)
$75 – Watchdog
$100 – Spokesman
$250 – Activist
$500 – Reformer
$1000 – Champion of the People
Please RSVP to Robert Hornak at [email] or
(718) ###-####. Response card can be downloaded at
[link]
Checks should be made out to "Hornak for NYC" and sent to:
Hornak for NYC
xx-xx 48th Street
Sunnyside, NY 11105
Host Committee (in formation)
Jennifer Arangio
Michael Benjamin
Robert Bishop
Daniel Marks Cohen
Hon. Anthony Coles
Kellyanne Conway
Aziza Fishman
Dr. Jay Golub
Niger Innis
Dr. Herbert I. London
Marie Lynch
Hon. Roger Madon
Susan O'Leary
Daniel Peterson
Alexandra Preate
Hon. J.C Polanco
Hon. Phil Ragusa
Paul Rodriguez
Lawrence Scheer
Curtis Sliwa
Mark Smith
Hon. Vincent Tabone
Patalia Tate
Kimon Thermos
Luke Vander Linden
Angeleque Vasilakis
Liset Velasquez