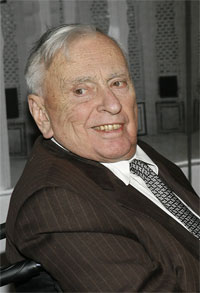 This week, Esquire.com posted the magazine's most recent "What I've Learned" interview with Gore Vidal.
While Mr. Vidal's interview was as erudite and prickly as the great man himself (samples: "'You got to meet everyone—Jackie Kennedy, William Burroughs.' People always put that sentence the wrong way around. I mean, why not put it the true way, that these people got to meet me, and wanted to?"; "Everything's wrong on Wikipedia"), the most interesting part was the behind-the-scenes story in the form of an email from interviewer Mike Sager.
The display copy accompanying the post claims it "was not intended for publication," but in this era of web-only content (Where's my web-only content! is a cry heard echoing through magazine and newspaper offices all over this great land of ours), it's a short, buzzy attention-grabber. Apparently, Mr. Sager went to interview Mr. Vidal ("a living embodiment of the last century: star-crossed American royalty, one of the first out fags, famous novelist when there was such a thing, when novelists were like movie stars," in the writer's estimation) at his home, where, "There are stairs everywhere in his house— two up here and three down there—and he has to be led around by his godson, a beautiful French boy with a long, frizzy ponytail. (He also has a Filipino houseboy in a white coat — who looks to be about sixty-five himself.)"
Mr. Sager came armed with a letter from Esquire editor David Granger asking if Mr. Vidal would contribute to the magazine which Mr. Vidal and his sixties-era antagonist William F. Buckley used to use as a playground for after-school fisticuffs. From Mr. Sager's account:
He read David's letter and asked if Harold Hayes was still alive. Then, mumbling something about Buckley (I take it he was mentioned in the note), he put the letter on the side table. During the course of our 11:00 A.M. interview, he used the letter as a coaster for his tumbler of Scotch.
Guess he turned the assignment down?