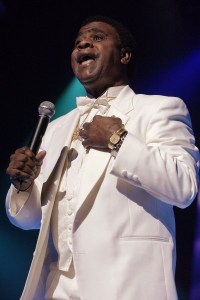 Al Green's voice is strange and expansive and organic. For most of the 1970s his work yielded a series of gorgeous soul albums that are part of the iconography of the genre. Willie Mitchell's arrangements pitted intermittent horns or organ over flat snare drums, with shards of smooth guitar and the occasional, lackadaisical string section. But the most important instrument of all was Green's astounding voice, which managed always to embody at once a louche sensuality and a rumbling spiritual fire.
That magic formula remains mostly intact on the latest album from the 62-year-old, Lay It Down, which appeared on record-store shelves yesterday from Blue Note. It's being billed as a comeback album, which is odd, since it's not just the third album Green has released in five years, but because he's been on a comeback, in one way or another, for closer to 15 years. One wonders when the comeback will cease and leave Green free to simply be a musician.
This is the third Green album on Blue Note, but the first on which he is joined by producers Ahmir ?uestlove Thompson (drummer for the Roots) and James Poyser, a pair that, as part of a collective known as the Soulquarians, made a name in the so-called neo-soul scene of the 1990s, helping to produce such artists as Erykah Badu, Common and, especially, the mercurial, brilliant D'Angelo (on his best work, 2000's Voodoo). They are known for fostering improvisation, obsessing over details, and a kind of worship of classic '70s soul artists and production styles.
Those first two Green albums on Blue Note were made with his old producer, Willie Mitchell, and they captured the artist's former greatness while traversing a bit of new ground sonically, and managing to lose none of what made albums like Let's Stay Together and I'm Still in Love With You so fine. Lay It Down tries to improve on the Green-Mitchell alchemy, finessing some of the instrumentation in different directions and, mainly, with a number of duets pitting Green against latter-day soul singers like Anthony Hamilton, Corinne Bailey Rae and John Legend.
A bit of history will explain why we keep talking about Al Green's comeback, when he's been back in business for some time now. In 1976, following a wrenching personal experience involving an obsessed woman who attacked him before killing herself, and in an effort to be free of the trappings of fame and fortune in Memphis' soul scene, Mr. Green turned to the church, was ordained as a pastor of the Full Gospel Tabernacle in Memphis, and turned entirely to gospel music. He released albums often, even toured, but would not play his early catalog.
In 1988, the crossover success alongside Annie Lennox of "Put a Little Love in Your Heart" got the ball rolling on Green's return to the commercial and secular world of music. Green wanted to bridge the gap between his long gospel stint and his old hits with a take on music that joined the sacred and the profane in the shared language of love. In 1993 and again two years later, Green teamed with producer Arthur Baker (who had worked with artists from New Order to Cyndi Lauper and the Beastie Boys), who added a host of souped-up R&B effects and trappings to Green's honeyed vocals, with far from memorable results.
After the longest break Green had yet taken from making music, his proper return, the first Blue Note album, the Willie Mitchell-produced I Can't Stop, was warmly received, and reportedly sold more than 275,000 copies. Follow-up Everything's OK, though it was even better at balancing Green's still-perfect and restless voice with the subtle backing provided by some of his original Hi Records rhythm section (they would reunite a few years later to back up Cat Power), sold less than half as many albums.
Which brings us to Lay It Down, a seemingly new direction for Green, but also doubtless a way for him to capitalize on fresher-faced musical collaborators, and for those collaborators to gain some credibility by crafting an album with one of their heroes. It's likely that the diminishing sales of his last two efforts placed some pressure on Green and his label to heighten his profile. But it remains unclear whether Green was anxious to test his mettle against the younger generation or the other way around. Yet while this project may have had the best, or at least interesting intentions, it ends up tempering Green's prodigious gifts, and serving forth a batch of tunes that often feel wooden, and at worst boring. Sadly, this is most the case when collaborators step to the microphone. They simply don't have his rhythmic and dynamic flexibility. Thompson and Poyser are clearly trying to hew pretty close to the Hi-Records/Willie Mitchell sound, but what is meant as homage comes across as hollow impersonation.
Likewise, the backing band plays it exceedingly safe, and ends up sounding timid, split between attempting revivalism and reinvention. Poyser plays a decent, fuzzy organ, Thompson's drums have a familiar shuffle, and the recently deceased Chalmers Alford lends an expertly subtle guitar, while Adam Blackstone adds rich bass lines. Horns come courtesy of the Dap-Kings (best known as backing band to revivalist soul acts Sharon Jones and Amy Winehouse, for whom the past is premium), and seem overly bright and randomly deployed. Thompson and Poyser are talented producers, but the tension between invention and resurrection strains the songs here.
Reportedly, the sessions for Lay It Down involved a great deal of improvisation, a first for Green, and while this means he sounds at times joyously unfettered, the band doesn't always quite keep up. Lyrically, Green is, as ever, adept at riding a line where love stands above all else, and its redemptive, forgiving, healing power is both divine and humane. The opening and title track "Lay It Down" sets a smoky, slow-burn tone and thankfully uses Anthony Hamilton as little more than a backup singer. Follow-up "Just For Me" feels slight, while Hamilton's verses on the next track "You've Got the Love I Need" mars what would have been a terrific showcase for Chalmers Alford's laid-back jazz guitar arpeggios. "No One Like You" strikes a fine balance between (thankfully) muted horns, great guitar lines, and a sucker-punch of unadulterated sweetness in Green's lyrics. "What More Do You Want From Me" offers more of the same.
Not only is the Green-Corrine Bailey-Rae duet "Take Your Time" somewhat awkward in the whole May-December sense, but Rae's flat and pedestrian plaints on this slow-burner are no match for Green's explosive yet restrained verses. Her sound is too thin, too ethereal and too damned precious. "Too Much" allows Green's voice to find its full range, but the clucking backbeat and bluesy piano rolls, alongside the Dap-Kings horns, feels like "too much" too.
John Legend is the only guest singer on the album who can match Green for inventive use of his instrument, and their duet, "Stay With Me (By The Sea)," is enchanting and as near-perfect as the duets get.
The final trio of tunes finds Green on his own, and the better off for it. "All I Need," and "I'm Wild About You" (despite the latter's needless disco intro) are solid, and "Standing In The Rain" (maybe the album's best track) is what the rest of the album ought to have been, a shambling, loose celebration, with Green's voice and Alford's guitar flying, twisting and shouting from joy front and center.
Luckily, there's no end in sight to Green's comeback records, and despite this one's faults, any album with Al Green is an album worth hearing and cherishing. We are lucky to have him.