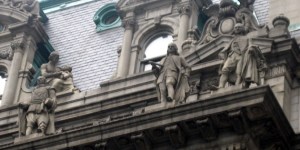 Tomorrow, a few more Democratic clubs in Manhattan will hold endorsement meetings on a bunch of local races, including the quiet, but incredibly competitive, Surrogate's Court race in Manhattan.
How competitive is that race? Judging by the hired guns the candidates have, very. (Especially since most folks haven't even heard of it).
Milton Tingling has two important figures on his campaign: Kevin Wardally of Bill Lynch Associates, and Chung Seto, a Hillary Clinton fund-raiser and former executive director of the state Democratic Party. Tingling already earned an endorsement victory by a landslide when the county Democratic organization met earlier this month, giving him crucial institutional support.
John Reddy, an experienced judge closely associated with the current surrogate, Renee Roth, has Joe Reubens and The Parkside Group working on his campaign. The firm helped elect Manhattan Surrogate Kristen Booth Glen and in Rockland County, they helped Robert Berliner unseat an incumbent surrogate judge.
Nora Anderson, a reform-minded candidate (with neat campaign literature), has consultant Michael Oliva, who successfully managed two other Surrogate's Court candidates, as well as campaigns for judicial candidates in other courts.