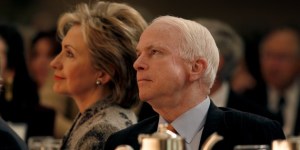 A couple of weeks ago I wrote about the pandering Presidential politics of Clinton, McCain and Obama. McCain pandered on the gas tax and Hillary and Barack pandered on trade.
A few days ago, in a disheartening display of more of the same, Clinton joined McCain in supporting the suspension of the federal gasoline tax this summer. In contrast, Obama continued to oppose the tax suspension. With key primaries coming up in Indiana and North Carolina and in a clumsy attempt to court the hard-pressed middle class, Clinton has abandoned principle for a moment of possible political gain. Obama, who seems to be remembering that he is always at his best when he levels with the voters, deserves credit for doing the right thing on this issue.
This latest bit of political gamesmanship is part of Clinton's newest attack line: Barak Obama is out of touch with the concerns of average Americans. After a year of intense campaigning and constant travel I'm quite confident that both Senator Clinton and Senator Obama are fully aware of the concerns of the American public. It's a contrived argument—and Hillary knows it is. Anyone who gets in a car or doesn't have a million bucks in the bank knows that the middle class is feeling the squeeze. The answer to that squeeze is policies that generate real wealth and then work to ensure that the middle class shares in the wealth they help generate.
Revitalizing the economy won't be accomplished by sending rebate checks in the mail or defunding our infrastructure. We need to invest in science and technology, build a fossil fuel-free green economy and help working Americans and their kids get the education they need to participate in the global economy.
The war in Iraq is another drain on our economy, as amply demonstrated by my Columbia colleague, Joseph Stiglitz in his new book, The Three Trillion Dollar War: The True Cost of the Iraq Conflict (co authored with Linda Bilmes). Clinton and Obama both know this. While I realize it's too much to ask that the Presidential campaign be used to educate the country about the real challenges we face, the candidates could at least avoid misleading the American public.
The gasoline tax is needed to build and maintain our roads and bridges. Lower fuel taxes will encourage more driving and add to air pollution and global warming. A lower gasoline tax is bad public policy and it really saddens me to see someone I admire as much as Hillary Clinton sink to this level to try to squeeze out a few more votes in this campaign.
I suspect that most people can see through these blatant political maneuvers and they don't really work. People think that gasoline is too expensive, but they also know we need to figure out a way to reduce our addiction to it. We have had seven years of politics that appealed to self interest and fear. The result of that has been an endless war and an economy on the skids.
Thee surest sign that Senator Clinton is on the wrong side of this issue was President Bush's announcement in the Rose Garden on Tuesday that he was open to the idea of suspending the gasoline tax. Of course, the President thinks the real answer to high energy prices is additional oil exploration and refining capacity. Perhaps his Texas oil friends are envious of the profits being made by BP PLC and Royal Dutch Shell PLC, Europe's two biggest oil producers, who recently announced combined first quarter profits of $17 billion. We have paid a heavy price by allowing our energy policies to be dominated by the oil industry.
We need fresh thinking and honesty from our politicians on energy policy. We see signs of honesty from Obama, less and less of it from Clinton, little of it from McCain and of course none of it from President Bush.