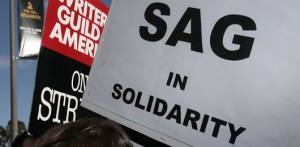 Los Angeles "will continue to be preoccupied with the threat of Hollywood shutting down," according to The New York Times' Michael Cieply, who brings us an update today on the labor negotiations currently under way between producers and actors' unions.
Yesterday, the American Federation of Television and Radio Artists struck a three-year deal with production companies over reusing performers' images on the Web. But The Times reports that the more powerful Screen Actors Guild "would not simply accept the same terms as other unions."
The guild's talks over a new contract with the Alliance of Motion Picture and Television Producers — which is set to expire at the end of June — stalled this month, but resumed on Wednesday.
The most difficult issue in the talks with the federation surprisingly did not hinge on compensation of artists for work in new media, as during the recent three-month writers' strike. Instead, it centered on the granting of permission.
Actors have traditionally had the right to approve the use of clips from their work on television. But producers had asked for the ability to use clips on the Web without permission from each actor, arguing that flexibility was needed to counter the widespread piracy of shows on the Internet.
So is another strike imminent? We'll know by June 30, the date the guild's contract is set to expire.