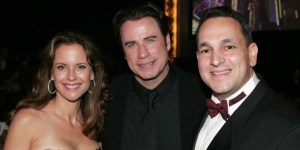 State Senator John Sabini is reportedly on the verge of losing the backing of the Queens Democratic County organization, which may endorse his likely 2008 challenger, City Councilman Hiram Monserrate.
Monserrate almost ousted Sabini in 2006, and that was before Sabini got arrested for D.U.I. Add to that a Jackson Heights district with a growing Hispanic vote and a Democratic County leader, Representative Joe Crowley, who is looking to curry favor with an emerging leader in his backyard, and it doesn't look good for Sabini. (Except: Monserrate has $39,562.44 on hand. Sabini has $101,071.55.)
A woman who answered the phone at the Democratic County head quarters just now said they are still meeting and have not made a decision yet.
Ironically, Monserrate's strength in the district comes partly from the fact that the county organization doesn't have much power in that area. So, how much is county's endorsement even worth?
It would be a damaging blow, no doubt, symbolically and organizationally to Sabini if they endorsed Monserrate. But the real measure of the endorsement is what comes afterwards.
Just ask City Councilman James Sanders, an incumbent who was rebuffed by the county organization when they endorsed his 2005 challenger, David Hooks, after leaders in the Jamaica-based district complained that Sanders was unresponsive. But after the endorsement, the organization seemed to do little for Hooks, and Sanders won reelection.
In fact, the organization made a strong tactical move by listening to its local leaders, who favored Hooks, without riling Sanders by working against him.