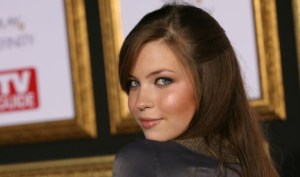 Donnie Darko's little sister is all grown up and heading to LA. Or at least she will be when S. Darko, the sequel to the 2001 cult film, Donnie Darko, starts shooting May 18.

According to Cinematical, it's seven years after her brother's death and Samantha (Daveigh Chase), now 18, is roadtripping with her best friend, Corey, when they are "plagued by bizarre visions." The fun doesn't stop there! The $10 million picture will mix fantasy and reality just like the original, and, as Simon Crowe of sales company Velvet Octopus put it, "Donnie's not in [the new film] but there are meteorites and rabbits."
The similarities may end there. Ms. Chase is the only member of the original cast who'll appear in the sequel, and Richard Kelly, who wrote and directed the original Donnie Darko, is not involved. Chris Fisher (a horror film vet who directed titles including Nightstalker) will helm the film.
But the real question is, can someone please travel back in time and drop a jet engine on this idea?