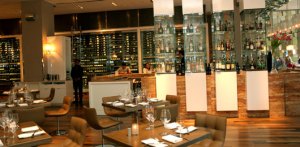 The waiter set a martini glass on the table. Instead of gin, it contained a thick mushroom soup. Two slices of pancetta had been inserted on top, like slices of lemon for a cocktail. When I dug in my spoon, a poached egg melted into the soup and onto a bed of spinach underneath. A rustic, down-home soup in a martini glass: a fitting dish for a restaurant that describes itself as an "urban tavern."
South Gate, in Jumeirah Essex House on Central Park South, has replaced Ducasse as the hotel's signature restaurant. The Dubai-based owners have just completed a $90 million refurbishment of the hotel, and they have installed another star chef in the kitchen, Kerry Heffernan, from Eleven Madison Park. (Ducasse, meanwhile, has opened Adour in the St. Regis.) Mr. Heffernan's cooking is not haute French, but modern American—and emphatically seasonal. These days, expect to find sweet English peas served in a simple flan with morels; or pencil-thin asparagus garnished with sieved eggs; or salmon with red and golden beets and ramps, the prized wild leeks of spring.
The restaurant has its own entrance in the form of a glassed-in cube leading in from the street, but I arrived instead via the hotel's Art Deco lobby, where a giant model of the Essex House sat on one of the lounge tables. When I looked at it closely, I saw that it was made out of Lego bricks. I walked through the glass doors that led to an immense red marble bar and lounge area crammed with tourists and office workers having cocktails and snacks.
SOUTH GATE SETS out to be jazzy and accessible; the place literally glitters and gleams. The restaurant's dining room, designed by Tony Chi, is bright and airy, with picture windows overlooking the park. The walls and ceiling are made of square panels of tilted, undulating mirrored glass reminiscent of a cubist painting. The floors are made of red travertine rock and white oak.
Down one side of the room is a display behind glass of more than 2,000 wine bottles, few of which I could afford. Widely spaced leather-topped tables are set with rather uncomfortable swivel leather chairs. The room has a buzz, but it's not noisy, and a brigade of eager, attentive waiters and busboys serve a busy turnover of Japanese visitors, foreign businessmen and New Yorkers.
Mr. Heffernan's food is straightforward and focused, but some of the portions, unlike the prices, are small. Fill up on those tasty cheese gougères that are brought to the table when you sit down, along with a sip of cauliflower soup or a quarter-size piece of salmon rillette served as amuse-bouches. The hamachi I ordered one evening—three tiny pieces with eucalyptus oil and lemon peel—was very good, but not much bigger than an amuse-bouche, nor was a special of white asparagus. The asparagus were huge, the waiter said, and I imagined something on the order of sugar cane. The four little slivers that reached our table were not much more than a tantalizing taste.
Still, the menu is full of nice touches that add interest to the plate. Rings of seared calamari come with a subtle cauliflower custard and pea shoots ($48 a pound, folks, at last weekend's Greenmarket!), enlivened with a coriander-flavored lobster sauce. Juicy Mayan shrimp and young leeks are dressed with a subtle, light vinaigrette seasoned with cardamom. The red snapper gets a foam of green celery fondue and white anchovy.
When I asked the waiter about the Giannone chicken, which comes from Canada, he gave me rather more detail than I wanted to know: after being defeathered, the bird is air-dried instead of washed—apparently this retains its flavor. The chicken was indeed exceptional, moist and tender enough to eat with a spoon. I also liked the speck-laced potato tart that accompanied it, along with a rich porcini mushroom jus.
Two disappointments were the cod, in an insipid broth with linguica sausage and manilla clams, and the smoked duck breast. The latter, which comes with yellow carrot coulis, radishes and fresh laurel, sounded interesting, but was dull and served in thin listless slices: hotel food.
THE WINE LIST, compiled by the ebullient sommelier Troy Weissmann, is first-rate but high-priced. A Riax Baixas Turonia Albariño, one of the cheapest ($46), he accurately described as "racy." One night he recommended an Olga Raffault Chinon from 1995. Despite the decanting (during which the waiter stood over it on his tiptoes as he poured), the swirling and the holding up to the light, I found it tannic. But it was cheerfully replaced.
Desserts end the meal on a high note. They included a blood-orange parfait laced with meringue and shortbread, and an apple crumble with bacon streusel and maple pecan ice cream. The chocolate mille-feuille with roasted bananas, peanut butter powder and banana chip ice cream—flecked with gold leaf because, hey, why not?—was terrific.
South Gate is comfortable, not noisy, and fun for people-watching. It's a good place to go before City Center or Carnegie Hall, or even Lincoln Center, preferably when someone else is paying.