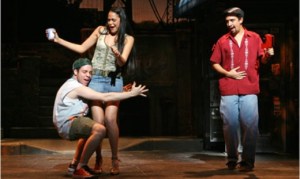 It's Broadway in Bryant Park baby! And Off-Broadway too! Musicals will once again be performed at the midtown green spot this summer for the 106.7 Lite FM-sponsored "Broadway in Bryant Park" series. You can catch short performances and previews of upcoming and currently staged shows on Thursdays from 12:30 p.m. to 1 p.m. on the lawn. Schedule courtesy of Playbill after the jump.
The seventh annual series (subject to change) follows:
July 10 – Chicago, Monty Python's Spamalot, Cry-Baby, and Stomp
July 17 – Avenue Q, The Phantom of the Opera, Mamma Mia!, In the Heights and Pure Country
July 24 – The Lion King, Passing Strange, Hairspray and Godspell
July 31 – The Little Mermaid, Altar Boyz and Cirque Dreams
Aug. 7 – Spring Awakening, Gypsy, Xanadu and Mary Poppins
Aug. 14 – Grease, Young Frankenstein, Rent, Legally Blonde and 13

Bryant Park is located just behind the New York Public Library on Sixth Avenue between 40th and 42nd Streets. Seating is on a first-come, first-served basis.

For more on "Broadway in Bryant Park," visit 1067newyork.com.