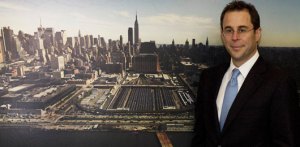 J. Christopher Flowers scores one for the sanctity of contracts!
Scarlett Johansson likely the buyer of a 53rd Street penthouse.
Designer Betsey Johnson moves uptown for $1.8 million to play grandma.
Beer and (presidential) circus offer signs of New York real estate's future.
The Related Companies' Jeff Blau talks about the West Side rail yards victory.
Vornado and Related want the Port Authority to buy Madison Square Garden.
What the GM Building sale means for Manhattan.
Deutsche Bank hunting for 450,000 square feet in Manhattan.
Midtown slips amid world's priciest office markets.
A Coney Island bathroom floor collapses in a Joe Sitt building. It's summer.
Mayor Bloomberg has run up a record amount of debt investing in infrastructure.