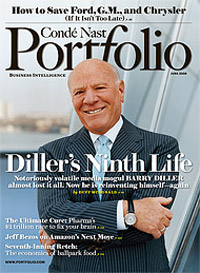 Portfolio senior editor Bob Roe was fired this week, and his last day was today, Media Mob has learned. It's the first major firing this year in what has been a relatively quiet year for the magazine.
Mr. Roe, a senior editor, was a frequent critic of Joanne Lipman, and staffers said that he wasn't shy about criticizing her in front of other staffers along the magazine's 17th floor corridor. Mr. Roe was brought in by former Portfolio deputy editor Jim Impoco, another Lipman critic, who was fired last August. Mr. Roe is also the husband of Nancy Haas, a freelance writer who was on contract with the magazine, an arrangement that ended earlier this year.
Mr. Roe had a stable of writers, which included Franz Lidz, the former Sports Illustrated writer who scored an interview with Yankees owner George Steinbrenner last year, and broke a story on portfolio.com about Yankees slugger Jason Giambi's predilection for wearing a tiger-striped thong when he gets into hitting slumps. He also edited the short-lived section, "In Play," which was a gadget section at the magazine.
A spokeswoman for Portfolio declined to comment.