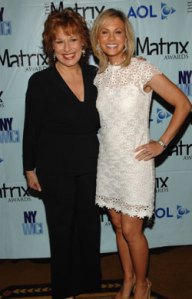 In early April, the New York Post's weekly real estate column ran an item on View co-host Joy Behar that said she'd bought a new apartment at Broadway and West 89th Street "for approximately $3.5 million," and was selling her old co-op in the building.
But according to a deed filed this month in city records, Ms. Behar actually paid $2,555,000 for the place, and she hasn't sold her old apartment.
The Observer asked Ms. Behar, reached through her broker, if she had leaked the apartment news. "I don't do that! I'm not interested in conspicuous consumption.
"It's like telling my weight. I don't like to give out numbers," she said. "The one thing you worry about is the Uma Thurman syndrome—not that I'm pretty or anything." She turns 65 in October. "You never know what menopausal woman will be stalking me."
She said that if she or her broker had leaked the news, the apartment price would not have been so wrong. On the other hand, her real estate agent, Carol E. Levy, was mentioned by name in the item. Ms. Levy, reached just after filming a guest segment for a new Sunday real estate television show, said she didn't speak to the Post either: "Never!"
But brokers don't hate the press. Ms. Levy is even developing her own show, which might be called The Manhattan Maven of Real Estate or "I Will Make You Money in Real Estate—exclamation point," she said. "Hopefully on a major channel; Home Depot has expressed interest. It's exciting."
Back to Ms. Behar: Her new apartment's last owner, who passed away, hadn't renovated the place in 45 years, said Amelia Gewirtz, who listed the co-op with Andrew Phillips. So one of the toilets is broken, one bathroom and a bedroom have no light, and the maid's bathroom just has an old half-sized tub.
Ms. Behar said she won't mind doing renovation work, especially because her old place in the building has much less entertaining space. "I figured I could have company, maybe I could put a piano in there—I don't play the piano, though," she said. Maybe she'll invite over her blond, peppy, 30-year-old co-host Elisabeth Hasselbeck, who just bought a $3.25 million new condo exactly 10 blocks up, closing one week earlier.