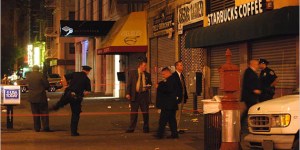 The New York Times' Eric Konigsberg was hired by the Metro section to write about the lifestyles of the rich. He wrote for magazines like The New Yorker and Rolling Stone before coming on board, and had never had a job at a newspaper. In any event, when he was hired in August 2006 he told Joe Sexton that he'd run to cover a Jersey City fire when duty called. "I told him to bring his track shoes," said Mr. Sexton in a memo announcing the hire back then.
Duty called on Memorial Day, it turns out; the staffing was a little light for the holiday (and job cuts have strained the desk to start with), and someone had to go to Harlem to report on the shooting of eight people at 125th Street and Lenox Avenue.
Mr. Konigsberg's previous byline before today? "At Table No. 3, Lunch With a Side of Schmooze."
All hands on deck!