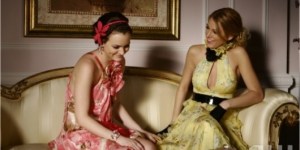 In yet another attempt to find a new and creative way to cover the over-exposed show Gossip Girl, Vanity Fair sat down with three–real!–Upper East Side high school girls they call A, M and T. The girls talk about going to Butter–"Butter is ok; I'm not really into it"–drinking cosmos, and how many people they know that went to rehab a la Serena van der Woodsen. Here are a few of our favorite answers:
VF Daily: What do your parents do for a living?
A: My father is a businessman and my mother is a fashion designer.
M: My dad sells precious stones and my mom is in real estate.
T: My dad is a lawyer and my mom is a psychologist.
Are they still married?
A: No.
M: They're separated but it's not as bad as other parents.
Where do you go on vacation?
A: St. Barths during the year and Europe over the summer.
M: St. Barths and the Bahamas.
T: Miami. We have an apartment.
Who are your favorite designers?
A: D&G, Chloe, Chanel, and Moschino.
M: Tory Burch, but it's mostly for like my mom and older people.
T: I wear Chanel flats every day.
How many pairs of shoes do you own?
M: Probably about 50 to 100.
T: I don't know I have a lot of shoes; probably like 90 pairs.
A: Not enough.
Do you drink?
M: I don't but a lot of people drink vodka.
T: I started like last year. I don't drink a lot but sometimes at parties I drink Cosmopolitans, like in Sex and the City.
How many people do you know went to rehab?
T: Two.
A: Five to eight.
M: Five to ten.