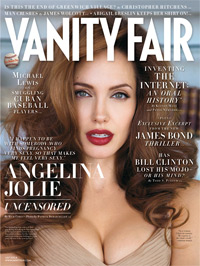 What do you do if your magazine was embroiled in a possibly manufactured controversy over its allegedly sexualized photos of a minor? If you're Vanity Fair, you make fun of the whole thing, of course.
VF Daily has posted a sneak peek of the magazine's July issue featuring Angelina Jolie's impressive décolletage below the cover line "Angelina Jolie Uncensored." (Thankfully, the magazine had the tact not to use the cover line Angelina's Twins.) But in the upper right corner of the magazine is another line about the tween star of Little Miss Sunshine: "Abigail Breslin Keeps Her Shirt On!" (To see a larger version, look here. )
That's certainly better than how they teased their moral panic-inspiring Miley Cyrus story: Miley Cyrus Takes Off. Subtle.