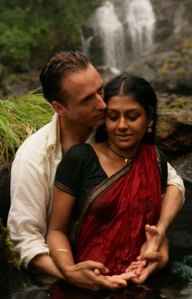 BEFORE THE RAINS
Running Time 98 minutes
Written by Cathy Rabin
Directed by Santosh Sivan
Starring Henry Moores, Rahul Bose, Nandita Das
Grateful for small favors, I applaud Before the Rains, a lovely, lyrical film with perfect timing that is a welcome relief from BlackBerrys, iPods, gas taxes, punk rock, the failing economy and the boredom of cutthroat election campaigns.
Helmed and lensed by the distinguished Indian director-cinematographer Santosh Sivan (Asoka), and set in southern India in 1937, it tells the exotic tale of a foreigner torn between two worlds, who pays a supreme price for cultural confusion. Henry Moores (Linus Roache, the star of the memorable Antonia Bird film Priest) is an English businessman-adventurer with a dream of building a spice plantation in Kerala. But his plans first require a new road to be cleared through the hills and jungles of a vast terrain rarely visited by white men, and he needs the money and manpower to do it. To secure the aid of the local villagers, he depends on his trusted right-hand assistant, a native named T.K. (Rahul Bose). To serve his baser needs, he depends on his housekeeper, Sajani (Nandita Das), a mercurial and intelligent girl who also becomes his lover. A journey together to collect honey in the forest turns into a sexually charged encounter witnessed by two local boys, who waste no time in spreading news of the affair to Sajani's village. The scandal turns this warm, loyal and respectable woman into a social outcast: beaten by her husband, turned away by her family and forced into hiding. The risk escalates and the tension mounts when Henry's wife (the elegiac Jennifer Ehle) and son arrive from England. Domestic demands rein him in temporarily, but the jealous, resentful Sajani will not be cast aside so easily. Threatened with death in her own village, she turns to T.K. for help and Henry for refuge. Henry is too cowardly to confess his infidelity, so he does what many men in his position do. The result is a tragedy that ends one life and ruins another. How long can power and privilege protect a foreigner when sin becomes a tribal matter?
A sweeping film filled with lush scenery and breath-tightening suspense, Before the Rains has the look of a fine, erotically charged period epic (think The Painted Veil) driven by emotion, but as it binds its characters tighter within their self-made moral dilemmas, it shifts into the gears of a good film noir. As with his homosexual man of the cloth in Priest, Linus Roache again excels as a mild man capable of desperate acts of weakness fueled by sexual desire. But it's the Indian actors who illumine Before the Rains, capturing the colonized Indians' compromised dignity. Shades of the well-made narrative films of the old school here, but I'll take Somerset Maugham over Speed Racer anytime.