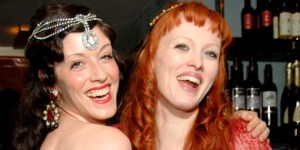 Last night, we found red-headed supermodel Karen Elson at an intimate dinner in the West Village celebrating the virtual launch of the House of Lavande, a high-end vintage couture jewelry line that started as founder Tracy Smith's personal collection. Ms. Elson was co-hosting with trapeze artist Sarah Sophie Flicker. (The two also perform together at The Citizens Band, a political cabaret troupe.)
"It's super dreamy, we're totally going as gypsies, tramps and thieves tonight," said Ms. Flicker—sounding like she was having a bit of a hangover from the famous recent Night of a Thousand Stevies—of the jeweled headdresses she and Ms. Elson were wearing. "It certainly fits into my aesthetic. I collect showgirl headdresses, and when Karen and I perform, we wear stuff like this, except I have a problem and let it filter into my normal life."
"She just has great taste," said Ms. Elson. "It's not just random vintage jewelry, she goes out and finds things that were actually worn by like the ballerinas in Ballet Russe."
"It's for a woman who doesn't want to look like everybody else, that possesses an individuality, which New York girls definitely possess. It's not about fitting in," she added.
Speaking of not fitting in, Ms. Elson told the Daily Transom that she and hubby Jack White are living in Nashville these days.
"We actually got married there, well, legally, I should say. We first got married in the Amazon," said Ms. Elson. "Being nonconformist, we were just like, 'Let's go to Nashville!'"
The couple live there with their two children, daughter Scarlett who's just turned 2, and son Henry Lee, born in August of 2007. "It's beautiful there; we have a gorgeous home and weeping willows!"
"I have a bunch of friends in Nashville. I've lived in New York for 10 years and my heart will always be here, but the problem is that New Yorkers think that there is no world outside New York City, but you can find like-minded people anywhere you go," she said. "Sure, I stand out, my husband stands out, we all stand out."
Ms. Elson told us that she will be opening a vintage store in Nashville soon.
"I'm trying to juggle that, being a mom, working, and fashion," she said. "I'm opening it with a friend in Nashville who used to have her own store and has the most amazing pieces from all these old grand dames of Nashville."
"And those country stars, what are they going to do with all their stuff, get rid of it? Give it to us!"