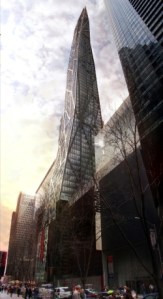 Pritzker Prize-winning architect Jean Nouvel cleared a hurdle today in his effort to build a skyscraper taller than the Chrysler Building next to the Museum of Modern Art, as the city's Landmarks Preservation Commission today voted 7-0 to allow the tower to go forward, according to agency spokeswoman Lisi De Bourbon. Neighboring residents have strongly resisted the idea of a giant new hotel and residential tower going up mid-block on 53rd Street.
The tower, developed by Hines Interests, needed Landmarks approval because it was transferring development rights from two city landmarks nearby, the University Club and St. Thomas Episcopal Church. The commission needed to rule on whether the new tower would affect either landmark.
Next stop, where the controversy could get a bit more interesting, is the city's land use review process, where City Council approval is needed. The local elected officials have expressed concerns about the tower, and in similar dances between developers and politicians, the land owners have been forced to give concessions and modify designs.