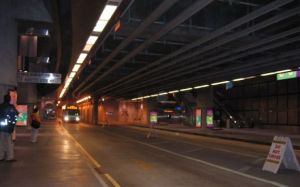 At an Assembly hearing this morning on the far West Side, Lee Sander, executive director of the M.T.A., indicated that as the far West Side grows, the agency is considering bringing rapid bus service or a light rail to the district, supplementing the planned 1.5-mile extension of the No. 7 subway line.
"Between light rail and bus rapid transit, we are going to want to do everything we can to improve connectivity to the far West Side and the rest of Manhattan, but I think it needs to be a supplement to the No. 7 line," Mr. Sander said. "We are working closely with [city Department of Transportation] Commissioner [Janette] Sadik-Khan in advancing bus rapid transit, and we ultimately would like to see an extensive network of bus rapid transit, which would be relevant in terms of certainly the 34th Street corridor, and as well as potentially the 42nd Street corridor."
DOT has said it intends to try a car-free section of 34th Street, with just buses allowed, though bus rapid transit often is more extensive and, depending on how it is implemented, could have street lights timed to give buses a green light.
At the same hearing, held by Assemblyman Richard Brodsky, Deputy Mayor Robert Lieber said the Bloomberg administration would seek to issue the remaining $1 billion in bonds for infrastructure on the far West Side before the end of 2009, and ask for the City Council to allow the city to issue another $500 million in bonds for infrastructure in the district (perhaps to cover cost overruns, though Mr. Lieber was not specific about the reason).
As for the No. 7 extension, originally budgeted to cost $2 billion, Mr. Sander said he has no intention of having the M.T.A. pay for the cost of the project. Many expect the extension to have substantial overruns given the rising construction costs experienced in similar projects throughout the city. The city wants the M.T.A. to pay a portion of any overruns, though the two parties said negotiations are expected in July.