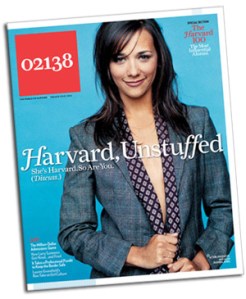 02138, the lifestyle magazine for alumni who attended college "near Boston—um, in Cambridge" has been sold to Manhattan Media, publishers of The New York Press, City Hall, The Chelsea Clinton News, and other papers. O1238 was launched in 2006 with the backing of Atlantic Media's David Bradley.
According to a release, Manhattan Media sees the magazine as the centerpiece of an Ivy League Media play:
As part of the acquisition, Manhattan Media President and CEO Tom Allon also announced that the company is launching a new division, Ivy League Media, which will publish a series of like-minded magazines, web sites and social networking events targeting alumni from other Ivy League schools: Yale, Princeton, Cornell, Dartmouth, University of Pennsylvania, Columbia, and Brown.
The magazine, whose sale price was undislosed, drew controversy last year by examining the lawsuit brought against Facebook's boy founder Mark Zuckerberg by a former classmate. The magazine also famously featured former New York Governor Eliot Spitzer and his wife, Silda Wall, on its cover as a Power Couple in Winter 2007.