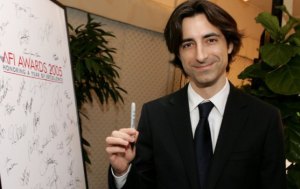 Noah Baumbach, another 90's boy who grew up, will probably have more heady examinations of "young urban angst" in Greenburg, his new film starring Mark Ruffalo (doughy animal cracker eating cop in Zodiac) and Amy Adams (Disney heroine in Enchanted, indie princess in Junebug). The Hollywood Reporter has the scoop:
Plot details are under wraps for the film, which is said to be a relationship comedy-drama. UTA is shopping the project in Cannes and financing is currently being assembled. While no timetable is set for principal photography, Rudin is aiming to shoot later this year.
Rudin produced "Margot at the Wedding," Baumbach's 2007 follow-up to his breakthrough drama "The Squid and the Whale."
Adams is now shooting another Rudin project, Columbia's "Julie and Julia," and is set to wrap "Night at the Museum 2: Escape from the Smithsonian" by this fall. Ruffalo is filming Martin Scorsese's "Shutter Island" for Paramount.