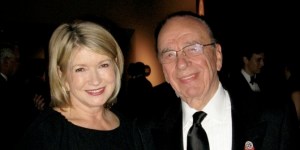 We get so entranced by Martha Stewart's accounts of her horse's enflamed rear hock and white asparagus updates on her blog that we didn't even notice the photos she posted yesterday from the Time 100 gala that took place May 8. She even brought her own photographer!
Although posted a little late—you'll have to have a faster turn-around to compete on the Internets, Martha!—the post shows the domestic diva clinking Champagne flutes with "leaders and revolutionaries, heroes and pioneers, scientists and thinkers, artists and entertainers, and builders and titans," as she writes. There are photos of Ms. Stewart clutching Rupert Murdoch's arm (incidentally, we know what they talked about!), with the CEO of Cartier in what looks like an elevator—"Frederic de Narp, and I found that being together was better than being alone" (oh, reeeally?)—and with her ever-present publicist, Susan Magrino!
And in case you were wondering why her hair looks so damn good in her solo portrait, she'd like you to know that it's her new Eva Scrivo haircut.