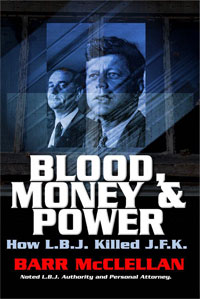 Former White House Press Secretary Scott McClellan isn't the first member of his family to write a controversial book about a president of the United States. But while Mr. McClellan's book, What Happened: Inside the Bush White House and Washington's Culture of Deception, may be considered a form of character assassination by some, Mr. McClellan's father was more interested in real assassinations, namely that of John F. Kennedy.
This week, Mr. McClellan the Younger set the Beltway ablaze with a damning tell-all about the shortcomings of the current administration. But Mr. McClellan's father, Barr McClellan, a former practicing attorney in Texas, set conspiracy theorists ablaze in 2003 by publishing a book titled Blood, Money, Power: How L.B.J. Killed J.F.K., in which Mr. McClellan the Elder alleged that President Lyndon B. Johnson was involved in the planning and cover-up of President John F. Kennedy's assassination.
The older Mr. McClellan explained his book to The New Yorker's Jane Mayer in 2003, saying "I knew L.B.J. well. He was very brutal. I'd seen him in person. I'd been in Austin many years, and I knew a good bit about him. … Everyone suspected there was a conspiracy, but they didn't know how it worked. This is the inside story."
No word yet from scientists at the Human Genome Project as to whether there's an underlying genetic basis for writing highly unflattering portraits of Texan presidents.