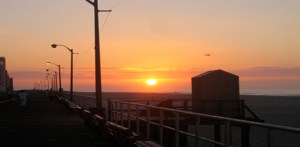 I have a summer place on the West End of Long Beach, New York, that my wife and I bought in 1987. Long Beach is an urban beach—about an hour from the city and at the end of a branch of the Long Island Railroad. My small house is really a bungalow that is on a 60 by 40-foot piece of land a half block from the bay and a block and a half from the ocean. The house was built around 100 years ago and I've been wondering if will be around 100 years from now. The Army Corps of Engineers wants to build a huge dune on the beach to protect the island from the next storm surge, but the folks here rejected the idea and are willing to take their chances. I'm not sure how I feel about it. Barrier islands like this are truly wonderful places to enjoy, but it's a little crazy to think we can avoid destructive storms forever.
New York City is blessed by a location right by the ocean and close to mountains. When I was growing up in Brooklyn, we had Riis Park, Brighton Beach, Manhattan Beach, and Coney Island. Later we discovered the beaches from the Rockaways to Atlantic Beach-Long Beach, from Jones Beach to Fire Island, from the Hamptons all the way to Montauk. To say nothing of the Jersey Shore from Bradley Beach to Ship Bottom on the beautiful Long Beach Island. If you love the ocean, New York City is near some of the world's most beautiful beaches. Summer is a time for slowing down the pace or at least changing the scenery. For me, summer means the ocean, the boardwalk and the beach.
This past weekend summer started with reflection and the somber determination of Memorial Day. In Long Beach there is a parade that features 5,000 people marching and according to the Long Beach City Web site, about half the town is either in the parade or watching it. My neighbors and I go to the corner and watch the parade and wave American flags and cheer the veterans, politicos and the school marching bands. With a war on and in a town with as many veterans as Long Beach, there was a touch of sadness mingled with our memories. As idiotic and tragic as this war is, I am glad that we continue to honor our soldiers. When I was in High School I was active in the anti-Vietnam war movement and back then opposition to the war extended to the people who served in our military. Today that is not the case. We have been able to separate our feelings about the people who serve our nation from our feelings about this war. We owe a great deal to the people who protect us overseas and to the police, fire fighters and emergency workers who protect us here at home.
There is little question that we were deceived into fighting in Iraq. Saddam may have been evil, but he no longer had weapons of mass destruction- and we were manipulated into this war by ideologues in Washington. Terrorism is a real threat to people all over the world, but the war in Iraq has little to do with that threat. Still on Memorial Day we take the time to honor those who gave their lives so we can enjoy this still amazing country.
The ethos of public service must be nurtured if our nation is to survive and thrive. That includes the military, but also includes work in the Peace Corps, Americorp, police and fire departments and the countless community based organizations that work on everything from feeding the hungry to planting flowers in our parks. As Barak Obama said when filling in for Ted Kennedy at Wesleyan University commencement last weekend: "It's because you have an obligation to yourself, because our individual salvation depends on our collective salvation. Because it's only when you hitch your wagon to something larger than yourself that you realize your true potential and discover the role you'll play in writing the next great chapter in America's story…I hope you'll remember, during those times of doubt and frustration, that there is nothing naïve about your impulse to change the world. Because all it takes is one act of service — one blow against injustice — to send forth that tiny ripple of hope that Robert Kennedy spoke of." There is little question that this era of self-indulgence will need to end if America is to thrive as a sustainable nation in a global economy.
As summer starts I think about shared sacrifice, public service and the passage of time. Despite our best efforts to destroy it, the south shore of Long Island retains its beauty and timeless quality. We get older, our babies become toddlers and in the blink of an eye they are teenagers bound for college. From a bike on the Long Beach Boardwalk you can't help but feel optimistic. The sky, the sand and the ocean are simply beautiful. In a world where too many suffer, we have an obligation to share this beauty with others and to make this planet better for everyone.