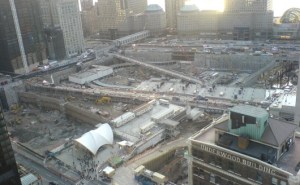 The Wall Street Journal reports today that Merrill Lynch is in talks once again to move its headquarters to one of Larry Silverstein's towers at the World Trade Center site, with the Port Authority, which owns the site, expected to discuss the matter at today's board meeting.
From the article:
Merrill's lease at its current downtown Manhattan home will expire in 2013. Senior executives at Merrill have discussed the trade-center possibility and have given the green light to its corporate real-estate team to explore the move. … The board of the Port Authority of New York and New Jersey, the bistate agency that owns the site, is expected to discuss the matter Thursday and could vote to authorize a pause in the construction process to allow Merrill's design needs to be accommodated.
Back in December, Merrill's staff had chosen to move to Vornado Realty Trust's site at the Hotel Pennsylvania, though Merrill's board never took up the issue as it was preoccupied with billions in write-downs and problems with CEO Stan O'Neal. The real estate team, ready to present its recommendation about the move, was said to be literally sitting outside the board room.
Mr. O'Neal was ousted, and Merrill began talks to get a five-year renewal with Brookfield Properties at its current World Financial Center site near the World Trade Center site in Lower Manhattan.
Now, Mr. Silverstein apparently wants more time to negotiate with Merrill before he moves forward on foundation work that would need to change if Merrill agreed to come to the site. Merrill wants larger trading floors in the tower.
Back in 2007, Mr. Silverstein and the Port Authority initially failed to come together and provide a unified package to Merrill, instead offering a bid considered rather expensive for the site. At the last minute, Governor Spitzer stepped in to try to smooth out sticking points between the two parties, lowering the cost to Merrill by hundreds of millions of dollars. The action proved too late, though, as Mr. O'Neal was set on moving to midtown.