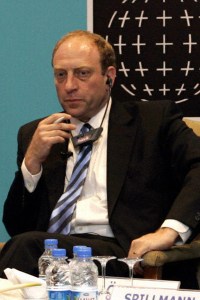 The Media Mob has learned that longtime New York Times editor Mike Oreskes is leaving the company for the Associated Press.
Mr. Oreskes, who is currently the editor of the Times-owned International Herald Tribune, has been working in one capacity or another under the Times umbrella for the past 27 years. Before he took his position as executive editor of IHT in 2005, he was the deputy managing editor of The Times for Bill Keller, and an assistant managing editor under Howell Raines before that.
At the AP, he'll become the managing editor of the wire service's U.S. News department, a newly created department there.
Update! AP has confirmed our report with a press release. Here it is:
AP names Michael Oreskes Managing Editor for U.S. NewsThe Associated Press today named Michael Oreskes, executive editor of the International Herald Tribune in Paris, to be AP Managing Editor for U.S. News.
In the newly expanded position, Oreskes will oversee all U.S. news from The Associated Press, from state bureaus to national political coverage, for both U.S. and world audiences.
"We're delighted to have an editor with Michael's breadth take up this important new position in the AP,'' said Kathleen Carroll, executive editor. "His experience at every level of coverage, in every format for audiences in the United States and across the globe, makes him uniquely suited for this position."
Oreskes, 53, has served as executive editor of the International Herald Tribune since 2005. Previously, he was deputy managing editor of The New York Times, supervising television and Internet content. During this period, he won three Emmy awards and a DuPont award for documentary television.
The appointment was announced Thursday by Mike Silverman, senior managing editor, to whom Oreskes will report. He joins AP in July and will be based at AP headquarters in New York.
"With his background as metro editor and statehouse bureau chief, he will be a strong advocate for the strong state reports that make AP unique," Silverman said. "And with his Washington experience added in, he can help our journalists connect the dots between the federal government and the states and citizens it serves."
Oreskes will oversee the work of AP's bureaus in the 50 states, which will be reporting up to him through four regional operations being created in 2008 and 2009. He'll also supervise the work of the Washington bureau, the news service's largest domestic bureau, and AP's national feature, beat and investigative reporters.
Oreskes will be one of four managing editors, joining John Daniszewski, in charge of international coverage; Kristin Gazlay, in charge of business news and training, and Lou Ferrara, in charge of sports, entertainment and a merged multimedia and graphics department.
From 1997 to 2001, Oreskes was Washington bureau chief for the Times, and previously served as metropolitan editor and city editor. He started with the Times in 1981, as a metropolitan correspondent. Before that Oreskes worked for the Daily News in New York City. He is a graduate of City College of New York.
About The AP
The Associated Press is the essential global news network, delivering fast, unbiased news from every corner of the world to all media platforms and formats. Founded in 1846, AP today is the largest and most trusted source of independent news and information. On any given day, more than half the world's population sees news from AP.