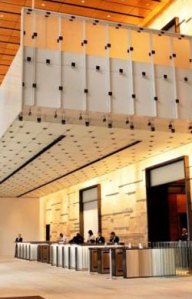 Office space in midtown Manhattan, New York City's priciest commercial market, is still cheaper than in London, Moscow, Tokyo, Mumbai, Paris, Singapore and Dubai, according to CB Richard Ellis' latest Global Market Rents survey.
In fact, the midtown market, with an average occupancy cost of $103.43 per square foot, slipped to an ego-deflating 13th in the list of 173 markets, from No. 12 in November. Occupancy costs include rents and taxes.
The most expensive office market was London's West End ($299.54 per square foot), followed by Moscow ($232.37) and Tokyo ($220.25), according to the report, which covers the year ending March 31.
The cheapest office market in the top 50 (beyond which CBRE did not rank) was Shanghai's Puxi section ($61.26 per square foot).
"Office occupancy costs are continuing to defy sluggish economic conditions and the credit crunch, as they rise faster than global inflation," said Raymond Torto, CBRE's global chief economist, in a statement.
The only other North American areas to make the top 50 included Calgary Central Business District (42nd at $66.27); Toronto's central business district (47th at $62.44); and suburban Los Angeles (48th at $62.06).