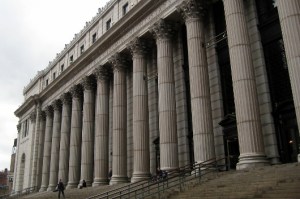 No one ever said planning for a train station was cheap.
In a recent filing with the SEC, Vornado Realty Trust wrote off $23 million associated with the "abandonment" of the so-called Moynihan East portion of the Penn Station redevelopment plan.
Taken with planning for the expansion of the station into the Farley Post Office across the street, Vornado, led by Steve Roth, has spent $34.2 million, according to the filing:
The three months ended March 31, 2008 includes a $34,200,000 write-off for our share of two joint ventures' pre-development costs, of which $23,000,000 represents our 50% share of costs in connection with the abandonment of the "arena move"/Moynihan East portions of the Farley project.
Given that Vornado is in a 50/50 partnership with the Related Companies for the project, the numbers reported by Vornado suggest that the two companies have spent nearly $70 million on the project since they were designated developers in 2005!
Considering a shovel isn't anywhere close to hitting the ground for the project, that's quite the hefty sum.
And while the filing indicated that Vornado officially considers the Moynihan East plan (which involved moving Madison Square Garden to the Farley building) dead, at least from a financial accounting perspective, the developers have been trying to resuscitate it with more state/city intervention/loan guarantees.
Senator Schumer yesterday also called for the Moynihan Station plan to proceed with some sort of major renovation in Penn Station, starting with removing the 200,000 square feet of office space and other uses that crowd the station.
Also from the filing: Vornado saw revenues from its rental properties rise in the first quarter to $536 million, up from $435 million a year earlier. The company owns 16 million square feet in the city, spanning from 1 Penn Plaza to a shopping plaza in the Bronx (where small retail lobbyist Richard Lipsky has been pushing us to pay attention to his opposition to Vornado, as its tenant, Key Food, is having trouble renewing a lease).
The company's stock price has been creeping up recently, as it is currently trading around $95 a share, up from less than $80 in March.