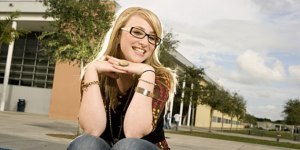 Last month this reporter interviewed Amanda Lorber, one of the stars of MTV's docu-series The Paper. At the time, Ms. Lorber, a high school newspaper editor, was savvy enough not to reveal where she would be attending college in the fall. "I don't think I should tell you [where] yet because that's a plotline," she said, laughing. "I will be studying journalism, though."
Finally, her silence has been broken! Ms. Lorber will be attending New York University in the fall according to NYU's Washington Square News. (This fact had already emerged via a commenter on Jezebel last week.) Ms. Lorber tells the WSN's Sergio Hernandez, "I'm ready [for NYU]… I'm a little nervous now because the show has come out, and I kind of don't want to be recognized. I want to have a fresh start, and I want to be kind of a normal student, not a girl that was on an MTV reality show."
Being a "normal student" may be hard with her newfound cult following on the Web. Ever since The Paper premiered on April 14th, the show has been a running subject on Jezebel where editor Tracie "Slut Machine" Egan posts weekly clips to the delight of readers. (Ms. Lorber even has her own category) A blog called fourfour erected a small shrine to Ms. Lorber featuring animated graphics and screengrabs. Another blog called Dear Famous Asshole posted an open plea for Ms. Lorber to be its editor's "BFF" ("Pretty Please??"): "I cannot sit idly by in silence any longer: Amanda Lorber needs her own TV show … like, pronto."
On the multimedia front, one young YouTube user posted a video of herself interviewing Ms. Lorber on the phone, while another video blogged to complain that The Paper's other cast members are jerks to Ms. Lorber and that she wants to smack some of them in the face.