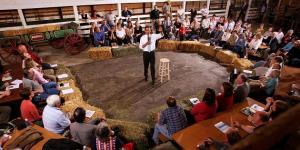 SOUTH BEND, Ind.—Barack Obama is doing his own listening tour in Indiana.
"What I want to do is spend more time listening than talking," said Obama at a small event at the fairgrounds here, where he discussed farming policies, subsidies and crop-dumping with a few dozen voters sitting around on bales of hay. Obama reminded them that he could also draw a crowd, listing his major events over the last few days, before saying, "It's wonderful to see these big crowds but the problem is you don't really learn a lot when you are listening to yourself talk. "
Still, before he got into the complexities of policies affecting livestock farmers, he did take a shot at John McCain's proposal to alleviate gas prices.
"But when John McCain, the best proposal he can come up with is a suspension of the gas tax for three months, it will save the average driver 30 cents a day and will add up to a total of 28 cents – well that's a gimmick," said Obama. "That's not solving the problem. Worse yet it comes out of the federal highway transportation fund which means we will not be rebuilding our roads and our bridges that are vital to commerce here in Indiana and employ thousands of people in the summer."