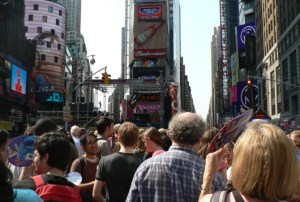 Traditionally, New Yorkers flee the city on Memorial Day weekend and visitors flood in, making it the ideal time to take the pulse of Manhattan's tourism sector. Based on domestic conditions, the summer season appears poised for a washout—gas prices are sky-rocketing, consumer spending is down, whispers about belt-tightening abound. Some vendors are indeed feeling the pinch, but overall it lookes like foreign currency has once again cushioned the city from the blows pummelling the rest of America.
"Things are pretty robust and the weak dollar is to thank for that," said Chris Heywood, vice president of the city's official tourism wing, NYC & Co.
Based on preliminary hotel data, the city estimates that about 130,000 international and domestic overnight visitors per day came to the city over the weekend. The Marriot Marquis in Times Square was full all three nights, hosting a 1,400-person Spanish tour group, said spokeswoman Kathleen Duffy, and it was not alone. All Mariotts in the city were completely sold out on Saturday and the average vacancy rate was about 90 percent on Friday and Sunday.
Thanks to British tourists and, lately, Spanish and Italian ones, the hospitality sector has been nearly impervious to the economic slump—on average, hotels were 86 percent occupied in April and room rates averaged $305 nightly, according to NYC & Co.—so far, said Mr. Heywood.
Like with the Mariott, he expects the trend to continue into the summer.
Colin, a horse and carriage driver parked beside the fountain on 59th Street and Fifth Avenue on Tuesday morning, said that Memorial Day was like "a normal weekend, which is to say "busy," but not sunny, holiday weekend busy.
"It must be the high gas prices," he shrugged, while keeping a tight grip on the reins of his horse.
A lackluster Memorial Day weekend certainly brings the tourism sector's woes into sharp relief, but the drop in U.S. consumer spending has been taking its toll all year, Colin said. "This is a luxury item and that's the first thing to go when you're in a crunch," Colin said, stroking his horse. "The Europeans have really been keeping the business afloat all year."
Since Europeans don't celebrate Memorial Day weekend, it makes sense that business wouldn't get a boost from a three-day weekend. The Playwright Tavern on 51st and Broadway would seem particularly susceptible to the prevailing economic currents given its customer base. The bar and restaurant is a popular pre-theater dinner spot for tourists and post-work watering hole for investment bankers from Lehman Brothers' headquarters across the street.
But manager Majella O'Shaughnessy said the restaurant was busier over this Memorial Day than last year.
"We had a lot of people from out of state," she said during a brief mid-morning lull before the lunch rush on Tuesday. As if on cue a call from a client arranging a 50-person dinner party that night interrupted.
"We are still doing corporate parties and have guys from Morgan Stanley and Lehman Brothers drinking at the bar every night," she said (and, no, she has not noticed more lugubrious happy-hour behavior on the part of the bankers).
At the Broadway Baby souvenir shop, business was "insane" and "crazy," according to Casey Paradies, who minded the store through Memorial Day weekend. "We had a lot of Europeans," he said. "I heard a lot of French going on, but they could also be Québécoise."
The store has been open for a year, and Mr. Paradies has not seen much of a change in spending since things started picking up after the Broadway strike ended in December.
"Americans don't spend as much as Europeans, but they still come in a lot," he said.
But not all tourism-related businesses felt the euros trickle down over the holiday. Accessory vendor Salam Yousif agreed that Times Square was packed with American and international tourists over the weekend, but business was "slower than usual last week."
"It was crowded but no one is buying anything," he said. "Even when they do buy it's only one item at a time, like a pashmina. It's not like it was last year."
For others, the poor turnout on Memorial Day weekend merely underscores what has been in the works for months.
"I'll tell you how the weekend was. Lousy, very lousy. There was more business during the week than the weekend," said Liz, who has run a news kiosk at 50th Street and Seventh Avenue for 40 years. She declined to give her last name, saying "everyone knows me as Liz the newsstand lady."
Things were so slow that Liz closed up at four in the afternoon on Saturday. On Sunday, she repeatedly left her kiosk unmanned while she chatted with employees at the Godiva shop on the same corner.
"I don't know what's going on," she said, throwing up her hands in dismay. "I usually sell 10 cases of water a day, now I'm selling five cases a week. I sold three T-shirts on Saturday. Normally, I'd sell dozens over a holiday weekend. This is one of the worst years ever."