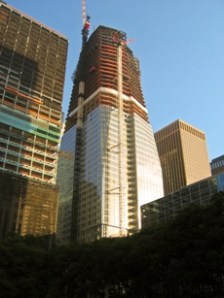 It was a bright new day at One Bryant Park this morning, when Bank of America employees showed up for their first day of work at the crystalline skyscraper on Sixth Avenue, between 42nd and 43rd streets.
The new 54-story skyscraper, also known as the Bank of America tower, unofficially opened for business, after developers secured a temporary certificate of occupancy at 5 p.m. on Friday.
Bank of America is the building's anchor tenant, with 1.6 million square feet, and its co-owner with the Durst Organizaton.
Four years after construction began, only the 37th floor remains empty in the new top-tier cloud-buster, which, however temporarily, is the city's second-tallest tower. Tenants include law firm Akin Gump, Al Gore's Generation Investment, and Durst's offices.
The building will have an official opening, complete with the hoopla appropriate to the rise of a new Manhattan trophy, at some undetermined date in the future.