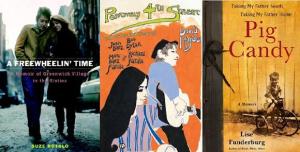 Suze Rotolo, the girl on his arm on the cover of The Freewheelin' Bob Dylan, is not a writer, and it's unfair to expect anything more from her memoir, A Freewheelin' Time (Broadway, $22.95), than a peek or two into the life of a very young Dylan on the brink of stardom. Unfortunately, we get a great deal more: flat-footed accounts of Ms. Rotolo's unhappy family life, her banal sociological insights into the '60s, her predictable lefty politics and her (still) undigested thoughts about the role of the muse in the creative life of a great artist. So what could have been a intimate eyewitness account of the Greenwich Village folk music scene from 1961 to 1963 (roughly the dates of her brief time with Mr. Dylan) is instead a bloated and boring ramble. Except of course when the former Robert Allen Zimmerman, late of Hibbing, Minn., makes one of his mercurial appearances.
Ms. Rotolo dishes no dirt at all, but she does share snippets from the letters her lovelorn boyfriend sent her in 1962, while she was away for eight months studying in Italy:
"There is a Peter Sellers movie on at 5 o'clock—I promised myself that I would see Taylor Mead's "The Flower Thief" … don't think I'm really loving movies—It's just that I'm hating time—I'm trying to push it by—I'm trying to stab it—stomp on it—throw it on the ground and kick it—bend it and twist it with gritin' teeth and burning eyes—I hate it I love you—"
Nothing else in the book comes close to the fierce kinetic force of that fragment.
The shelves are sagging under the weight of Dylan books, some of them excellent. Three sentences from Mr. Dylan's own Chronicles: Volume One (Simon & Schuster, $14)—quoted by Anthony DeCurtis in his friendly New York Times profile of Suze Rotolo—remind us again of Mr. Dylan's weird, unstoppable talent and show us the muse from the artist's perspective: "She was the most erotic thing I'd ever seen. She was fair skinned and golden haired, full-blood Italian. The air was suddenly filled with banana leaves."
If you want to see the same Village scene through the eyes of an intelligent, impartial, gratifyingly gossipy critic, go back to David Hajdu's Positively 4th Street (North Point, $17); if it's Mr. Dylan's lyrics that send you, check out Christopher Ricks' heroic close reading in
Dylan's Visions of Sin (Ecco, $15.95); if it's the music, try Greil Marcus' two Dylan books, The Old, Weird America (Picador, $14) and Like a Rolling Stone (PublicAffairs, $14).
Eager for more? Last month Simon & Schuster confirmed that Chronicles: Volume Two is on its way—there's even a chance it will be published before the end of the year.
If you're after a memoir pure and simple—a life exposed with intelligence and feeling—you could hardly do better than Pig Candy (Free Press, $24), in which Lise Funderburg takes us down to Monticello, Ga. (pop. 2,500), the place her father, a light-skinned black man, had escaped from, the place he came back to in his prosperous late middle age. The story is built around her father's attachment to his 126-acre farm—an attachment that grows stronger even as metastasized prostate cancer weakens him. Pig Candy—the title refers to barbecued pork—wears its somber themes lightly. Yes, it's about mortality, race and filial duty, but Ms. Funderburg never lectures, never preaches, never prettifies. She unspools her story with quiet candor and an unpretentious faith in the significance of what she has to say.