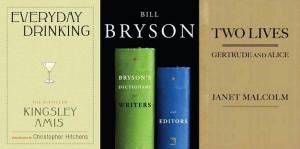 HOW VERY UNGENEROUS of Joan Acocella. In her long New Yorker essay about hangovers, "A Few Too Many" (May 26, $4.50), she cites Kingsley Amis several times, quotes him at length and mentions (without naming them) his three books on drinking but she fails to point out that Everyday Drinking: The Distilled Kingsley Amis (Bloomsbury, $19.99) is being published this week. It's those same three books gathered in a single volume and introduced by Christopher Hitchens (like Amis, a dedicated booze hound), and it's riotously funny, at least for the first 100 pages. Here's a taste:
"Alcohol science is full of crap. It will tell you, for instance, that drink does not really warm you up, it only makes you feel warm—oh, I see; and it will go on about alcohol being not a stimulant but a depressant, which turns out to mean that it depresses qualities like shyness and self-criticism, and so makes you behave as if you had been stimulated—thanks. In the same style, the said science will maintain that alcohol does not really fatten you, it only sets in motion a process at the end of which you weigh more. Nevertheless, strong drink does, more than anything else taken by mouth, apart from stuff like cement, cram on the poundage."
Amis' chapter "The Hangover" makes sheer delight out of a painful subject. Sadly, Ms. Acocella's essay, which is full of "alcohol science," doesn't quite pull off the same trick.
USEFUL AND RELIABLY SENSIBLE, Bryson's Dictionary for Writers and Editors (Broadway, $22) is one of those rare reference books that's a pleasure to read; look up one word because you need to, and you'll find yourself browsing, seduced by Bill Bryson's quiet wit—and curious, too, about his choices. He admits upfront that this "guide to the problems of English spelling and usage" is a "personal collection," that it reflects his own taste and experience (is that why there's an entry for Barack Obama, but none for Hillary Clinton or John McCain?), and he makes his dislikes apparent with blunt admonishment:
"Pique. Resentment. 'Fit of pique' is a cliché."
"Time, at this moment in. Unless you are striving for an air of linguistic ineptitude, never use this expression. Say 'Now.'"
You'd expect that the author of a tome called A Short History of Nearly Everything (2003) would have a wide range of interests, but I was nonetheless impressed when I found out on one page that Frank Gehry was born Ephraim Owen Goldberg and on the next that gentoo is a breed of penguin.
One last entry:
"Kudos is a Greek word meaning fame or glory. Though often treated as a plural, it is in fact singular. Thus, it should be 'the kudos that was his due.'"
OR PERHAPS THE KUDOS that was her due. The PEN American Center is handing out literary prizes this week, and two of the cleverest women in New York are to be honored: Janet Malcolm, who won the PEN/Jacqueline Bograd Weld Award for her biography Two Lives: Gertrude and Alice (Yale, $25); and Cynthia Ozick, who won the PEN/Nabokov Award for the splendid entirety of her work. Hats off.