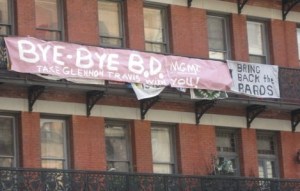 BD NY Hotels, the Richard Born and Ira Drukier-led outfit hired last year to replace eccentric longtime Chelsea Hotel manager Stanley Bard, has filed for arbitration after being fired by the hotel's governing board for "willful misconduct."
The controversial management team, which installed a rookie, 26-year-old Glennon Travis in the place of the veteran manager, Mr. Bard, has claimed in court papers that it has "fully performed its obligations" under a three-year contract, signed last June, and further asserted that the hotel was more profitable on its watch than when Mr. Bard ran the place.
Over the first six months of its oversight, BD NY claims, the hotel's income increased by 225 percent and occupancy increased from 73 to 88 percent.
Moreover, BD NY claims that the hotel's owners owe the ousted managers a whopping $2.7 million in "incentive" fees, which have not been paid.
A hearing is scheduled for May 5.