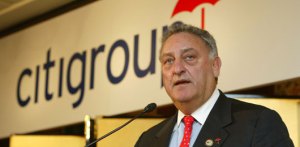 Governor Paterson is moving closer to picking a chief for his main economic development agency, the Empire State Development Corporation, a body that has sat without a clear leader since its downstate chairman under Governor Spitzer, Pat Foye, announced his resignation two months ago. The agency oversees many of the state's large, high-profile development projects including Moynihan Station, Atlantic Yards and the Javits Center.
A committee of mostly business leaders and led by Sandy Weill is due to recommend a new chairman to Mr. Paterson in one to two weeks, at which point the governor will have the final say, according to multiple people familiar with discussions.
Those people said that the names being considered include Alan Fishman, the president of a Brooklyn-based investment organization and the chairman of the Brooklyn Navy Yard Development Corporation; Dennis Mehiel, the former Democratic candidate for lieutenant governor in 2002 and a business owner in the paper and packaging industry; and Sharon Greenberger, the president of the city's School Construction Authority.
Other names floated include Avi Schick, currently the acting CEO of ESDC downstate, and Fred Hochberg, dean of the New School's Milano management and urban policy program.
Earlier this month, Governor Paterson said he expects to reverse a structure put in place by the Spitzer administration at the ESDC and install one overarching chairman for the agency. The Spitzer structure, with one chair apiece for upstate and downstate, seemed not to work, Mr. Paterson said.