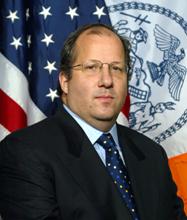 Governor David Paterson is planning to appoint Christopher Ward as executive director of the Port Authority, with an announcement to come as early as this afternoon, according to multiple sources familiar with the situation.
Mr. Ward, the former commissioner of the city's Department of Environmental Protection and a onetime Port Authority staffer, would take the slot left vacant by Anthony Shorris, who was asked to resign by Mr. Paterson last month to make way for a commissioner of his choosing.
The bistate Port Authority controls billions of dollars in construction projects in the region, including development at ground zero and the construction of a new tunnel for New Jersey Transit under the Hudson River.
Among Mr. Ward's first tasks would be to sort through the mess of Moynihan Station, the chronically delayed expansion of Penn Station, which Governor Paterson said today he would likely move the project under control of the Port Authority.
Mr. Ward, who was said to be in the running for the Port Authority job at the start of the Spitzer administration, is currently managing director of the General Contractors Association of New York.