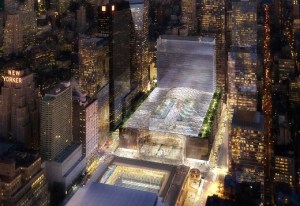 Governor David Paterson said today that he will likely move Moynihan Station under the purview of the Port Authority, dropping the imbroglio on the plate of soon-to-be-announced executive director Christopher Ward.
From The Observer's Em Whitney:
David Paterson was on the WFAN "Boomer and Carton" show this morning, expressing frustration over the city's stalled major development projects.
"What I'm going to do," Paterson told the hosts, "is probably move construction of Moynihan [Station] to the Port Authority, which I think has a better chance of getting it done quickly and I hope that we can start construction quickly enough that we can reverse plans that exist.
Also in the article:
Paterson doesn't fault the Dolans. "I don't blame them for reacting to that," he said, "because one of the things that frustrated me about government—and I am in government—is the excessive delays to plans."
Update 4:00 p.m. 
The folks at Senator Schumer's office just sent over this statement from him. Mr. Schumer has been publicly pushing the idea since March:
"Putting the Port Authority in charge of the Moynihan Station project is the right move because they have the resources and expertise needed to jumpstart this vital project. I commend Governor Paterson for his swift leadership on this issue and look forward to working with him, and all involved, to finally make Senator Moynihan's dream a reality."