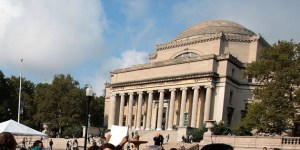 This week is graduation week here at Columbia and the campus has been hosting huge crowds of happy graduates and proud parents. I am reminded that in post-industrial New York City, education is a big business.
There are over 600,000 students in 61 institutions of higher education in New York City. This is the biggest college town in the United States, and when you add the 1,100,000 students in the city's 1,450 public primary and secondary schools and add to that the students in the 900 private secular and religious schools in the city, you get a sense for the amount of teaching and learning that goes on around here. With about 2 million students and hundreds of thousands of staff and teachers, at least 30 percent of the people living in New York City participate in education programs every day during the school year.
Within this huge and important enterprise a growing number of people are focusing on understanding the sustainability of our planet. A larger and larger number of students are studying about the environment and sustainable development. This is happening every day in elementary schools, preschools and high schools. Here at Columbia we have over two dozen undergraduate and graduate programs that focus on issues of environmental science, policy and sustainability. There are thousands of students studying these issues at New York University, Pace University, Cooper Union, The City University of New York, Fordham University, and most of the city's other colleges and universities.
One of the jobs I do at Columbia is directing the Masters of Public Administration in Environmental Science and Policy at the School of International and Public Affairs. On May 21, over 55 students from that program graduated from Columbia and joined about 250 colleagues who have graduated from this program since it began in 2002. Before our students graduate they all work in groups of between 10 and 12 to do a study of an environmental issue for a client in the government or in the nonprofit community. This public service is the type of class done at many universities in New York, including N.Y.U.'s Wagner School of Public Service. This spring, students and faculty in our Environmental M.P.A. Program completed five great projects including:
Act Locally: Implementing Sustainability in Local Governments
One team worked with the Environmental Protection Agency's Region II office here in New York and analyzed local government sustainability plans throughout the United States. They developed a practical sustainablity handbook for local governments which is now posted on the E.P.A.'s Web site.
Ocean Observing and Emergency Management
A second team worked on integrating the Ocean Observing System into Coastal Zone Management in the Mid-Atlantic. The Integrated Ocean Observing System aims to make climate predictions, promote maritime safety, minimize public health risks, and support ecological and resource management decision-making. Columbia's team worked with the Mid-Atlantic Regional Coastal Ocean Observing Regional Association to incorporate this system into the New York bight.
Designing a Green Building Retrofit Training Program
Another team of Columbia students worked with the well known local environmental group, Sustainable South Bronx to help develop a model for a training people for work retrofitting buildings to be more environmental friendly. The team designed a retrofit training program to promote energy conservation, provide employment, educate workers, and encourage outside investment.
U.N. Food Programme and Climate Change in West Africa
A fourth team of Columbia students worked with the U.N. World Food Programme to create strategies for incorporating climate change adaptation into their projects. The students created a framework for climate change assessment, which looks at the impacts of drought and desertification, flooding, and deforestation.
Reducing Carbon Emissions from Power Generation: The Potential Role of Biofuels in New Jersey
This team of Columbia students worked with the New Jersey Department of Environmental Protection to evaluate biomass life cycle emissions calculation methods for use by electricity-generating facilities. The Columbia team analyzed a variety of feedstocks that could be used for generating electricity in New Jersey. They have been constructed models to assess current policies, for the New Jersey Department of Environmental Politics.
The details on all of these projects and videos of the final presentation can be found on our program's Web site.
My faculty colleagues in our workshop, Kathy Callahan, Tanya Heikkila, Gail Suchman, and Sara Tjssoem worked closely without students throughout the semester, and like environmental faculty through out New York, are helping to train the next generation of environmental educators. Professors and teachers, please send me information on projects you and your students worked on this year. I'd love to let people know what is going on in our classrooms.